In this article you will find everything you need to know for Baños, the adventure capital of Ecuador. A Mecca for adrenaline junkies and nature lovers awaits your visit!
With that being said, you simply cannot leave Ecuador without paying a visit to the nature haven surrounding the small town of Baños. It is not about the town itself (which I personally did not like at all). It is about all those exploration opportunities that you will have from here.
Read below, for more…

Baños serves as the perfect getaway for many hiking trails, the route of the Waterfalls, as well as Amazon itself. Blessed with such an amazing natural setting, adventurous activities on offer are becoming extremely popular. You can opt between zip-lining, paragliding, rafting, bungee jumping, rock climbing, biking, swinging off a cliff, and many more. For the less adventurous ones, the town is also popular for its hot springs and thermal baths.
Interesting facts about the spring water in Baños:
It gets heated by the active volcano Tungurahua, which is only 8km away
It is believed to have healing powers. Don't miss the chance to try for yourselves.
Depending on your budget, you can opt between public baths (for only a couple of dollars), and luxurious spas. The most popular public bath is Termas de la Virgen. It is located right next to the big waterfall that sits in the heart of Baños. Some hotels in town also offer spa facilities for their customers and/or day visitors (under a fee).
Once you have set your foot in Baños, you will be surprised at the number of tour operators available here. In fact, most of the business in the town is based on tourism (domestic and international). With that being said, everything is on sale. For most of the activities, you will have to reach out to a tour operator. Alternatively, your hotel/hostel can also arrange that for you.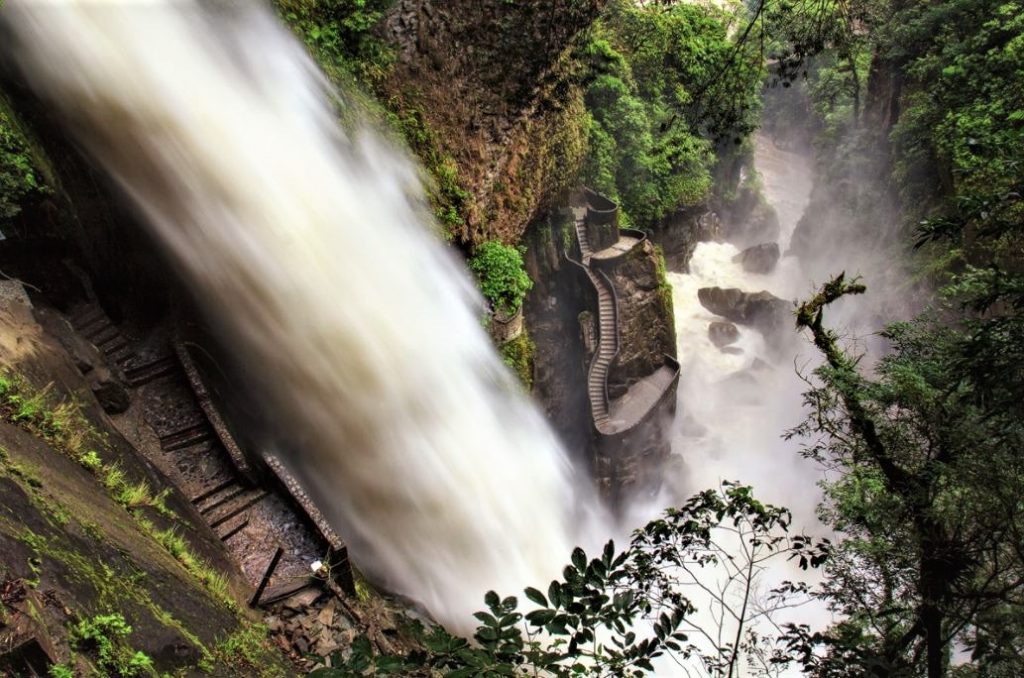 II. Things To Do On Your Own
I will start by saying what you CANNOT DO on your own! Obviously, this is participation on day trips and extreme sports activities. Some indicative prices:
Day-trip to Amazon Jungle: Starting from 50$
Zip-lining: 15$ (transportation to the site included)
Entrance to the Crystal Bridge: 7$
El Vuelo del Cóndor (jump off a high platform on a giant swing): 10$ for the 40m swing, 20$ for the 60m swing
Columpio la Bola (you sit inside a metallic sphere, which is hanging and rotating several times while being suspended in the air): 10-20$ (depending on the location that you will choose)
But don't let yourself being discouraged. There is still a whole lot to do independently. For example, hiking is totally free, with plenty of trails to follow around Baños. For other places you can visit on your own, read here below.
Ruta de las Cascadas | Pailón del Diablo
Biking is the most popular activity along the Ruta de las Cascadas, with your only cost being the bike rental (5-10$). This 17 km long route will take you past some of the highest and most spectacular waterfalls in Ecuador. The most impressive of them are the Agoyán, the Manto de la Novia, and of course the Pailón del Diablo. Pailón del Diablo will be your last stop on the Route of the Waterfalls.
If you don't fancy biking, you can still visit Ruta de las Cascadas using a group transportation service departing from Baños every day. You can book this service through any tour operator in town for as much as 5$ each way. Your last, and cheapest option to get to Pailón del Diablo is the public bus heading to Rio Verde (the small village next to the waterfall). The starting point of this bus is at the crossroads of Luis Martinez and Eloy Alfaro. A one-way ticket costs 0.50$ only.
Once you have arrived at Pailón del Diablo, you should pay special attention to this: There are two entrances to the site, same fee (2$), but each offering a different experience. The upper entrance will take you to a suspension bridge for viewing the waterfall from high above. The other entrance will take you close to the waterfall, and even behind it. For getting behind the waterfall you will need to do some crawling and climbing, but it's very much worth it! If you have the time, I would advise you to do both entrances!
Casa del Arbol | Swing at the End of the World
Exactly as its name clearly signifies, this is a treehouse with two swings hanging on each side. Frankly, if it was not for Casa del Arbol, Baños would never have become that famous around the globe. Nowadays, this specific swing has become one of the top attractions in Baños.
With an admission ticket of only 1$, you can literally take a ride at the end of the world… But beware, neither the speed nor the height of the swing will be under your control. There are dedicated employees assigned with the task to push the people on the swings up to their very limits! No matter how much you beg them, these people are ruthless! You may find some comfort knowing that the swings do not hang over a cliff but over a steep slope!
Good news is that there is a bus service connecting Baños with Casa del Arbol for just 1$. However, buses are not running all day long, so you'd better check their time schedule at the starting point (at the crossroads of Vicente Rocafuerte and Pastaza). Keep in mind that on Sundays there is only one morning and one afternoon bus service!
Likewise for Ruta de las Cascadas, tour operators offer regular daily transportation services to/from the Casa del Arbol. The cost for such service is again 5$ each way.
Tip: The queue at the swings is much longer when traveling with big groups of people.
III. How Can I Get To Baños?
You can get to Baños from nearly everywhere by using bus. You will need around 3.5h from Quito, 2h from Latacunga, 5.5h from Guayaquil, and 7.5h from Cuenca. If there is no direct bus from where you are, then head to Ambato and get another bus from there.
I have taken the longest route from Cuenca to Baños and the ticket cost me 11.50$.