In a small secluded region in the northwest of Pakistan, not too far away from the border with Afghanistan, lives the ancient tribe of Kalash. This mysterious light-skinned ethnic community of unknown origins, forms a small paganist minority (of around 4,000 members) within the grounds of the Islamic State of Pakistan. Despite the fact that Kalashas are surrounded by another dominant religious ethnic group, they have yet managed to maintain their own identity, language, religion, unique culture, and way of living. Which proves that even in a Muslim country like Pakistan, diversity can be sustainable and remain untouched over the years.
Set aside language and religion, Kalashas differ from Pakistanis quite significantly. To start with, the relationship between men and women is far more liberal within this community than the rest of the country. Boys and girls not only go to the same school/class, but they also spend carefree time together playing, singing and dancing. When they grow old their marriage is based on love and not on any other kind of social arrangement, like it traditionally happens across Pakistan. And, surprisingly, it is the woman who chooses her own husband, while she can even get a divorce if the marriage does not go as planned!
It worth mentioning that the Kalash people have long claimed to be direct descendants of Alexander the Great's army, part of which decided to stop and settle in the area around 23 centuries ago. And even if the DNA analysis has shown no evidence of such Greek origin, the special love of Kalash people for wine creates a special bond between us that goes beyond any genetic test! Surprisingly, the Kalash Valley is the only place within the country where consumption of alcohol is NOT prohibited. Kalashas are producing their own domestic liquors and wine that are particularly popular and highly consumed during the tribe's annual festivals.
In an effort to keep the legacy and traditions alive, the Kalash women invest an enormous amount of time into crafting their own dresses and accessories. The dresses are made of wool, they are long, black, and heavily decorated with colorful embroideries. Important additions to a Kalash woman's outfit are the belt, bead necklace and, of course, the most integral part of the tribe's identity and pride, the headdress/headpiece. On the other side, men have fully adopted the Pakistani traditional attire, with no special cultural touches.
A typical Kalashi house consists of only one room, which is used as the kitchen, sitting space, and bedroom for all the members of the family. Despite its compact size, the house is clean, well-organized, and functional.
Each Kalasha village has its own communal maternity home, known as Bashali. Kalash women reside here during their monthly period, as well as before giving birth. This place is intended to provide comfort and better facilities to females during those difficult days, and it's a great opportunity for them to get some rest from their household tasks. Isolating women in the Bashali house is something well-defined within Kalasha faith itself. It is seen as a cleaning process, where the females are regaining "purity" before returning back to their homes. Outsiders are strictly prohibited from entering the site or touching a woman while staying here.
Another very interesting ritual of the tribe refers to the passing of a Kalash member, which is followed by a lavish feast instead of a mourning. It is customary that the family shows their love and respect to the deceased by being extremely generous on his funeral. The ceremony includes dancing, singing, eating and drinking, with Kalash people from all three valleys joining this social event which lasts for… days! The deceased is buried along with all his personal belongings, while his bed ("charpai"), which is associated with the living world, is placed on the grave in an upside down position. Based on the Kalash faith this signifies the beginning of a new afterlife.
The festivals in the Kalash Valleys are marking the beginning or ending of each harvesting season. It's within this time period that the tribe prays and thanks Gods for a prosperous year of agriculture. Dancing and singing are the most integral elements of the festivals, while animal sacrifices remain part of the religious ceremonies.
Attending one of those annual festivals is a once in a lifetime experience. If you would like to witness it yourselves, then you should target your visit on one of the following months:
May: Joshi – Spring festival
August: Uchal – Summer festival
December: Choimus – Winter festival
Location-wise, the Kalash people live in three lush valleys (Rumbur, Bumburet and Birir) surrounded by the Hindu Kush mountain range in the broader Chitral area.
In order to reach this place, you have to first get to the nearest city of Chitral either by air or by road. Air flights are reasonably priced, but due to frequent cancellations you might end up in need of traveling by road. In such case, expect a long and exhausting ride, especially after leaving the motorway. The road twists and turns, while in certain parts there is a high risk of land sliding making your journey even more dangerous! With that being said, you should not underestimate the overall travel time. To be on the safe side, do consider an overnight along the way…
From Chitral you need to use a jeep as the road to Kalash is mostly off-road. You can hire such a jeep privately or use a shared jeep/car service. For sharing the ride you have to wait until the car is full, with the total cost being shared among the passengers.
The cost of a private jeep at the time of writing (May 2022) is 6,000-7,000 PKR for a one-way ride. We managed to hire a car for 5,000 PKR but you need to sharpen your bargaining skills to also get this price! For this price the driver will take you around the villages during the day, and have an overnight in the Kalash Valley so that he can drive you back to Chitral the next day. If you would like to spend more nights here, then you should make different arrangements with your driver about your return ride.
Note: Foreigners visiting the Kalash valleys will have to pay an entrance fee of 600 PKR as a kind gesture towards the welfare of the local people.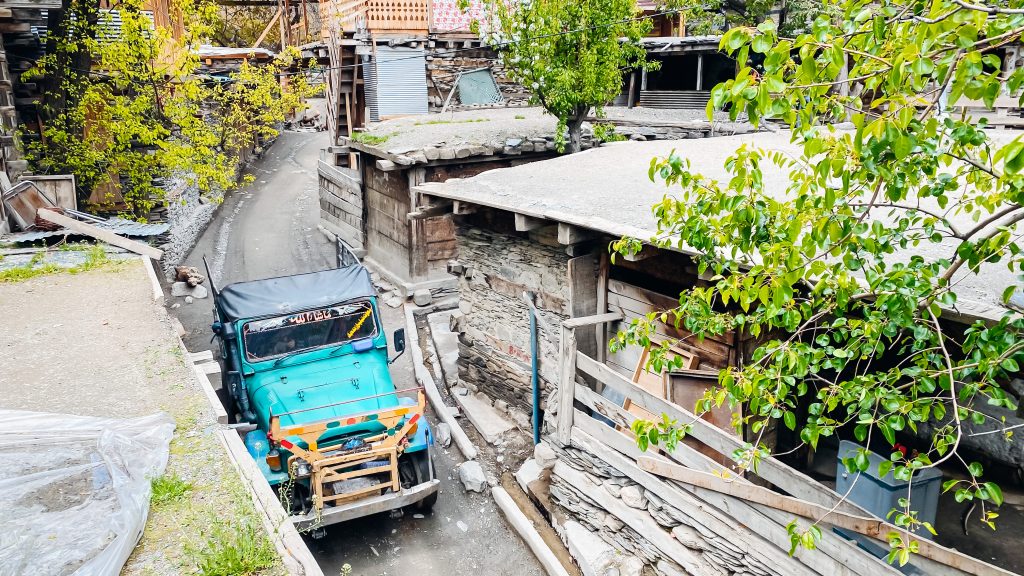 As a tourist you will be most probably prompted to stay in Bumburet. This village has undergone extensive development in recent years in an effort to provide better facilities for visitors. However, as most of the newly built hotels and guest houses in Bumburet are not owned by Kalash people, you will not be contributing directly to the community. Therefore, I would advise you to opt for homestays or local guest houses, with the most authentic option being the village of Rumboor.
We personally stayed in the guest house of Yasir for 4,000 PKR (price for two people). Breakfast and lunch/dinner are charged extra (consider around 500 PKR per meal per person). The entire family was extremely welcoming, the room was clean and cosy, while the food was very tasty! Their son, Jamil, even took us on a sightseeing walk around the village and shared with us a lot of insights about Kalash and their way of living! If you would like to have a similar experience, do not hesitate to reach out to Yasir on +92 347 5652230.
Given its proximity to Afghanistan, for a number of years Kalash Valley was not considered as a safe destination. But this is not the case anymore. As a proof to that, police escort is no longer required for foreign visitors.
Do not miss out on the ethnological Kalasha Dur Museum, located in Bumburet. This museum was built on funds of the Greek Ministry of Foreign Affairs. Upon request of local people, and in an effort to preserve their own language and culture, Greek volunteers offered an additional financial and personal support in rebuilding local schools. In appreciation to that, us Greeks are warmly welcomed in the valley while entrance to the museum is also granted free of charge. 
Be respectful and responsible at all times. Do not disturb locals in their everyday life and always ask for their permission before taking a photo. An interesting yet fun fact is that according to the Kalash "code of conduct" if you want to take the picture of a Kalash woman while washing the clothes in the river, you should first help her out in the process!!!
Greet locals in their own language! Say "Ispáta bába" when greeting a female and "Ispáta báya" when greeting a male. It's as simple as that!

Be ready to experience power cuts as electricity is not always guaranteed all day round! Mobile/internet connection is also not to be taken for granted (varies on your mobile provider, with Telenor being the only one operating in the area, while the signal is generally very weak).