Saying goodbye to Oklahoma and waving hallo to Texas. Our eyes could not have enough of the beautiful and unique Route 66 attractions, and so our stops became more and more frequent!
The "City Meat Market" (or else the "Curiosity Shop") is a unique place in the small town of Erick in Oklahoma. Not only is it the oldest building in town still standing, but also an open museum for all Route 66 lovers. We had already read a lot about this historic place, owned by a local musician who does not only keep it open for visitors but also offers entertainment with his live performances. However, arriving too early in the morning, did not allow us to experience either of the two…
It's hard to describe Texola, our last stop in Oklahoma and literally on the borderline with Texas! It is a tiny stop in a ghost town of maybe zero inhabitants but still with a bar to serve… God knows who!?!? Texola has a special energy that effortlessly brought a big smile on our face. And, of course, we could not leave without reading out loud the motto that was written on a nearby wall "There is no place like Texola"!!!
And finally there comes Texas, the Lone Star State! The town of Shamrock is a landmark stop on Route 66 with its most popular attractions being the historic Country Inn Motel, the iconic Conoco Tower Station and the U-Drop Inn Cafe. Needless to say that you should not miss it!
Groom is a town slightly off the old Route 66 that had to use smart marketing techniques in order to attract peoples' attention. One of those tricks was the Britten Tower, which was intentionally made to lean on the one side, something that indeed helped a lot in quickly becoming an attraction!
The Groom Cross, with its 58 meters height, is also attracting drivers' attention from over 30 km away. This gigantic cross is surrounded by 14 statues, each one representing one of the 14 Stations of the Cross, while on the back of the site you will find a representation of the Last Supper and the Calary Hill with the scene of crucifixion. Over the years, the Groom Cross gradually became a popular pilgrimage site for travelers and it's an interesting stop if you can afford the time for a short break in the area.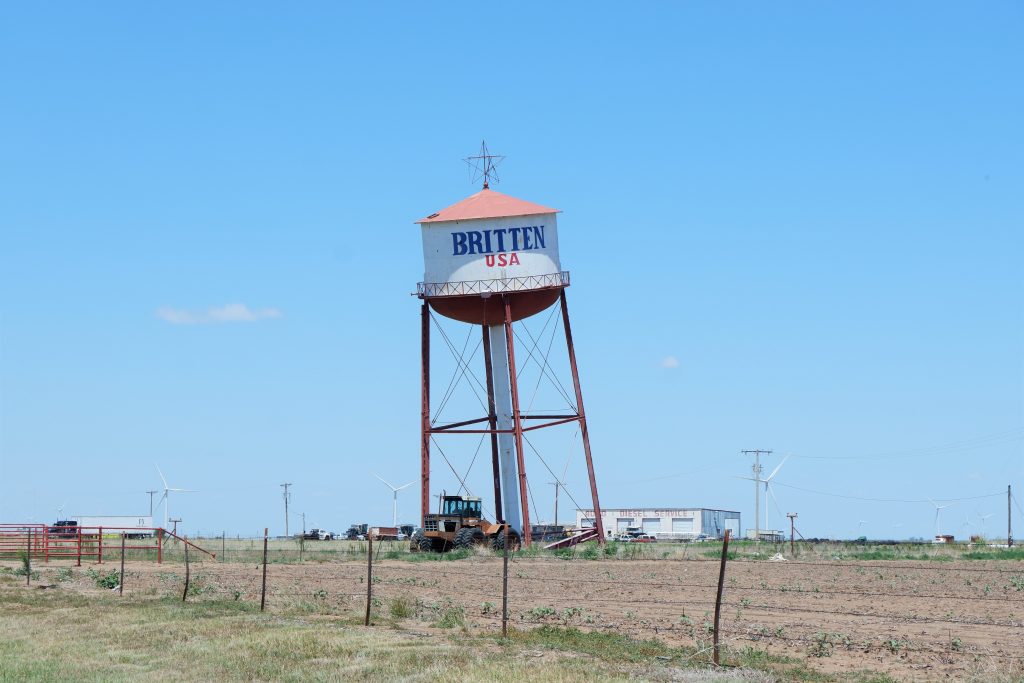 The next town is a place we simply loved and we could not recommend enough! It is the beautiful town of Amarillo! Your first stop here should be at The Big Texan Steak Ranch. This is the place where you are challenged to enter the World Record for eating a huge steak of 2 kilos (if you dare!!!). Should you achieve that, your meal will be offered to you for free!!!
Right after that, head to the 6th Street Historic District. This area has been added to the National Register of Historic Places for US and is very popular for its fine art galleries, antique shops, pubs and restaurants.
The last place to visit while in Amarillo is the Cadillac Ranch! 10 Cadillac cars half buried in the ground have become a ritual visit for those who travel on Route 66. Visitors are invited to write or paint on the Cadillacs using colorful sprays! But beware; whatever you create at Cadillac Ranch will most probably last for a few hours before someone else sprays over it! So you'd better take a picture of it for the memory!
For those who can afford one more quick stop, do note down the Dot's Mini Museum in the town of Vega. After that you will soon reach Adrian, the Geo-mathematical midpoint of Route 66 with the Mother Road running 1.139 miles east to Chicago and another 1.139 miles west to Los Angeles!
The end of the day found us literally at the Gateway to New Mexico, aka the tranquil town of Tucumcari, where we stopped for the night.