Upon arriving in Ecuador, you will be overwhelmed by the numerous tour operators proposing various day or multi-day trips for getting to know the country. Indeed, this is the most comfortable and time-saving way to go. But if you decide to solely rely on tour operators, you risk blowing up your travel budget. For those of you that feel a bit more adventurous, here below you will find a thorough budget guide on how to explore Ecuador on your own!
What is included: 

Detailed tips and routes for a perfect itinerary in the mainland of Ecuador! Truth be told, it is the Galápagos Islands alone that have contributed to the fame of Ecuador as a tourist destination. However, travel buffs know very well that the country's mainland has a whole lot to offer to its visitors. In fact, it can easily serve as a stand-alone trip for those that might not have the budget to head to the pricey Galápagos.

What is not included:

 Budget tips for 

Galápagos, since I have not (yet) visited

Galápagos Islands! However, I invite you to have a look on the dedicated article

"Ecuador | Galápagos – Start Planning & Budgeting Your Next Trip"

, where I am sharing useful info I collected for Galápagos.
Time-wise, I personally recommend 10 days at the very minimum for exploring the mainland. If you can afford more time, you will definitely not regret it. There are so many things to do and see that every day really counts in your favor! But for first-time visitors, 10 days should be pretty much OK.
Otavalo Market (day-trip from Quito)
Whatever your reasons may be (shopping good quality textile and artisanal "goodies" OR getting to see from up close a local indigenous tribe), the Otavalo Market is the place to be! The market is open all week round, but the most popular day is Saturday. So, if you can be flexible on the day of your visit, target for a Saturday!
Even if people will suggest that you take an organized tour starting from 59$ (usually combined with a couple of additional sites to make it more attractive), getting to Otavalo on your own is super easy. All you need to do is reach the Carcelen bus station on the north of Quito (any transportation option will cost you 0.25$). From there, there is a frequent bus connection to Otavalo. The trip takes about 2 hours and costs 2.5$ each way.
Mindo is a small village, located in a subtropical cloud forest, approximately 2.5 hours northwest of Quito. It is particularly popular for its biodiversity, and as such it mainly attracts nature and bird lovers.
Popular visits and activities to engage with while in Mindo:
Bird-watching: Mindo is listed among the best bird watching destinations, while it has also ranked within the Top-3 locations in the world with the highest count of birds. To be successful in your bird-watching endeavor, you should take part in one of the guided tours organized onsite (starting from 50$). Of course, you can still go on your own, by following certain hiking trails. The Yellow House trails are the most well-known for bird-watching, and are accessible under a certain entrance fee (6$).
Visit the Butterfly Farm (Mariposario de Mindo): Home to over 1,000 species of butterflies. Entrance fee: 7.5$
Orchid Garden: Over 200 kinds of orchids can be found here. Entrance fee: 3$ (including tour)
Ziplining: 20$ for 1.5h
Chocolate Factory Tour: 10$
Hiking: free
Rafting, tubing, mountain biking, and a lot more…
The visit to Mindo can be done through a full day group tour from Quito. This will cost you approximately 59$ (excluding the entrance tickets for all above mentioned sites/activities, but including lunch). I personally don't think that it is worth taking such a tour because:
You will not have the time anyway to attempt bird watching (bird watching usually takes place in the morning)
You can still head to Mindo on your own and take the activities/visits that you are interested in on your own. The bus ride to Mindo costs 2.5$ only, with buses departing frequently from the Ofelia bus station. For independent visits in Mindo, you will need to plan at least one overnight in the village.
Cotopaxi (day-trip or multi-day trip)
Cotopaxi is Ecuador's second tallest active volcano and a great symbol for the country. As such, it holds a special place in the heart of the people, and especially of those that have grown up looking at the iconic shape of Cotopaxi on the horizon every single day. And indeed, on clear days, Cotopaxi can be visible from as far as Quito itself!
But, no matter how breathtaking Cotopaxi looks from a distance, most people would like to see it from up, close and personal! The easiest, safest, and most comfortable way to reach Cotopaxi is through one of the many organized day-tours departing from Quito. Such a tour will set you back 50$ at the very minimum.
As you must have understood already, I am generally in favor of doing things on my own. For that matter, I had done my research on how I could potentially reach Cotopaxi alone. However, due to lack of proper footwear and clothing for such a hike, I decided to step back from the idea. Having said that I DO NOT HAVE OWN DIY (do it yourself) EXPERIENCE on self-exploring Cotopaxi, but I can happily share with you all the info I collected.
I will start by saying that using public transportation to reach Cotopaxi is way more complicated, making it hardly impossible to realize this visit as a day trip from Quito. Your alternatives are:
First head to the nearby city of Latacunga, which is much closer to Cotopaxi, and organize your day trip from there.
Acknowledge that you must organize an overnight on site (you can choose between the Refuge Lodge and the park's camping site – there is a certain fee for either of the two).
A combination of the two above-mentioned alternatives.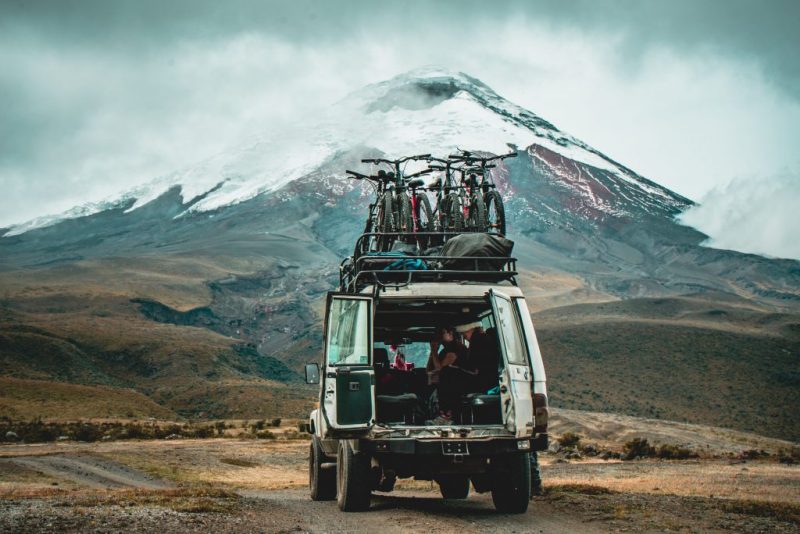 How To Get To Cotopaxi By Bus
There are plenty of buses departing every day either from Quito or Latacunga heading in the opposite direction. Tell the driver where you are going so that he can drop you off at the exit for the Cotopaxi National Park, along the Panamericana Highway. From this point, things get more complicated.
I was told, but I am not able to confirm, that at this junction you can hire a jeep to take you further up. This is not a transportation service, though, rather than a tour transfer. This means that you will have a local guide and you will be visiting different places within the park. Hence, the cost is again pretty high (around 35$ if you are on your own). Your best shot is to wait for more people to come and share the ride with you (still, it will get any lower than 20$/person). If you are interested in using such a service, then you'd better target your visit for a weekend, as the site is more crowded than during the week.
On a weekend you also have high chances to get a free ride from a local visiting Cotopaxi with his family. If neither of these two options works, then you can only walk your way up. Personally, I find this extremely difficult to do, as you will have to hike around 30km until Refugio Jose Rivas. The distance from the Cotopaxi junction up to the National Park's parking lot is roughly 25km. This is the distance that you need to cover using a car. Your hiking trail to the Refugio starts from the parking lot and it might take from 1h (very experienced hikers) to 2h (depending on your fitness and acclimatization level). The last milestone is the viewpoint over the glacier, another 40' further up.
Quilotoa Lake (day-trip or multi-day trip)
Quilotoa is by far the place I liked the most while in Ecuador. This breathtaking Crater Lake with its turquoise blue waters is simply mesmerizing.
Once again, most people will encourage you to join one of the numerous day-tours departing from Quito. Such a tour is usually priced at 50$, including lunch. Personally, I visited Quilotoa independently, and I found it super easy. All you need to do is plan an overnight at Latacunga. Due to its proximity from both Quilotoa and Cotopaxi, Latacunga is the best base for organizing a day trip and still be able to get back for the night.
Plenty of direct buses are connecting Latacunga with Quilotoa every day. Not so many, though, for your return ride (especially from midday onwards). I personally advise you to have an early start of the day (departing at 7 am would be ideal). Check the bus timetable from the previous day so that you know the exact departure times. I used the bus departing at 7.
The bus ride to Quilotoa takes around 2h, and the bus will drop you off at the entrance point. Before stepping off, ask the driver at what time is the last direct bus to Latacunga. There is also a big sign onsite stating the bus timetable, but it's better you double-check with the driver to be on the safe side. At the time of my visit, the last direct bus to Latacunga was at 1:45 pm.
If you don't make it for the last direct bus, you can still take a pickup truck to the nearby town of Zumbahua. There are a lot of buses connecting Zumbahua to Latacunga the whole day long.
A one-way bus ride from Latacunga to Quilotoa costs 2.30$, while the entrance to Quilotoa is another 2$.
As already mentioned, Quilotoa is a Crater Lake. Having said that, you will need to hike down to the base of the crater to reach the lake. Truth be told, its turquoise water looks way more impressive from high above, but it's still worth getting closer! Once you have reached the lake, you can enjoy some relaxing kayaking at 3$ (for half an hour). When it comes to the trail from the crater's rim down below, it is extremely slippery and as such, it requires proper hiking shoes. The ascent is also pretty tough, but, if you feel that you cannot make it on your own, you will be given the option to rent a mule for 10$. I am totally against using animals for such purposes, but I will let you decide for yourselves.
On average, the descent takes 40' and the ascent 1h 30'. I think it took me longer on the way down, as I was wearing simple tennis shoes and I had to go at a very slow pace. On the contrary, I did unexpectedly better on the way up (probably because I was afraid I would miss the bus)! As a reward, I treated myself to the best canelazo* I have ever tasted in entire Ecuador!
If you can afford a couple of more days here, then you should, by all means, do the infamous Quilotoa Loop. This is an extremely popular hike for those that want to get closer to nature and to the indigenous people of Ecuador. The Quilotoa Loop will give you the chance to enjoy the epic landscape, as well as visit (and stay at) various small towns along the way. The trail is said to be pretty easy and well-signposted, but it does require 3 days to complete.
* Canelazo is a traditional hot drink from the Ecuadorian highlands. The original recipe is made by boiling water with cinnamon and sugar. Canelazo is served with a local (strong) alcoholic sugar cane drink called aguardiente (see the picture above)!