Colectivos (Shared Taxis)
The most popular, inexpensive and fun way to move around in Cuba are the famous colectivos. Think of them as shared taxis that travel along fixed routes within big cities (mainly in Havana and Santiago de Cuba).
You might hear locals also calling them "almendrones", a word that is translating into "old car" in Cuban slang. Because this is exactly what they are, so set aside luxury!
Speaking about Havana, it is important to know the exact routes these colectivos are traveling on. Have a look here to become acquainted with them. Let me also remind you that colectivos are a form of shared transportation, so be ready to cram with other local passengers!
© Photo by Thaleia Ioannou
How to Use Colectivos in Cuba
You will recognize a colectivo by the black 'n yellow TAXI sign on its front window. Some basic survival tips, as follows:
Stand along the route in the direction that you want to go. Hail the colectivo when you see it.
If the car is empty, tell the driver "colectivo" before jumping in. In this way, you show your intention for sharing the taxi. Otherwise the driver might think that you want to take a private ride.
Avoid standing in front of hotels or touristic spots, as you will be treated as a tourist yourself. Similarly, never tell the driver that you want to go to a specific hotel or touristic spot. He will most probably charge you differently!
Check the map in advance and tell the driver the exact cross street (intersection) that you want to be dropped off. Remember that you will have to step off somewhere along the fixed route. If you want a door to door service, then you should consider using a private taxi instead.
Some people will advise you to always confirm the cost of your ride before jumping in. I strongly advise against it. You should simply act as if you know! There is a fixed price, so you just need to hand over the exact money to the driver before stepping off. Until recent days the cost of a short colectivo ride was 10 CUP (0,50 CUC). For longer routes, you might have to pay 20 CUP (1 CUC) tops. Confirm with your hosts in Havana the current rates of colectivos, and make sure you have small money to pay for your ride.
© Photos by Thaleia Ioannou
Private taxis are a lot pricier than colectivos, yet they can offer the relaxing door to door service you might be looking for. When using this type of private transportation, it is of absolute essence that you agree on the price well in advance. Contrary to colectivos, private taxi drivers will try to rip you off at all costs.
Your first experience on a private taxi in Cuba will most likely be from the airport to downtown Havana. The cost for such a ride is currently at 25 CUC. If you are a group of friends, you can of course share the cost. But if you are random strangers, then be prepared that the driver charges you differently (around 15 CUC per person). Believe me it's not so easy to cheat him, especially if you are not going to the same direction!
Always ask your host for the reasonable taxi rates, so you can negotiate accordingly. On average, you should expect to pay around 5-10 CUC for a day-ride and around 20 CUC for a night-ride.
© Photo by Thaleia Ioannou
Based on the info I have collected from other travellers (because I never used private taxis myself), there are 3 different types of taxis in Havana:
Cuba Taxis are the ordinary cabs and they belong to the government. You can agree on a fixed price or ask them to use the meter. Sometimes the traffic in Havana can get really bad, so it's safer to go for the fixed price.
Coco Taxis are three-wheeled, rickshaw style cabs, resembling to a colourful coconut! They are more affordable than the normal taxis and definitely a fun way to get around the city.
Bici-Taxis are taxis only by name! These are tricycles with the driver using his pedal skills instead of a motor. It is the slowest transportation option out of them all, which makes them ideal for relaxing sightseeing. Normally Bici-Taxis are pretty cheap, but you'd better agree on the price before getting in.
A ride with an old vintage car is top ranked on everyone's bucket list. You can pre-book a classic car (different options available through the web) even for your pick-up from the airport!
Alternatively, simply head to Parque Central (this is the starting point for all vintage car tours) and choose the car of your preference. You can negotiate the price on the spot, but you should not accept anything higher than 30 CUC per hour. Sometimes you can bargain a longer ride at the same price, so give it a try.
© Photos by Thaleia Ioannou
Havana Touristic Buses (Hop-On Hop-Off Style)
Another inexpensive way to see all major sites of Havana in just one single day is the touristic Hop-on Hop-off buses. Like in all other such buses, you can get off at any stop, explore the area on foot, then get on the next bus and continue to your next destination.
It worth mentioning that there are two different routes to choose from, namely the T1 and the T3 routes.
The T1 Route is served by a red double decker bus that will take you throughout Havana, covering nearly all top tourist attractions around the city centre. You will get an audio-guide when onboard, but you should not really count on it as both the quality and the narration are really bad. A day ticket for the T1 bus will cost you 10 CUC.
The T3 Route is served by a regular yet touristic bus that will take you to the eastern beaches of Havana (Playa del Este). A day (return) ticket for the T3 bus will cost you 5 CUC.
Both buses depart every 30-35' from Parque Central (right opposite Hotel Inglaterra).
Time Schedule: 09:00-18:00 (approximately)
For visualizing both routes and their exact bus stops, take a look at the following map:
Gua Guas (Intracity Public Buses)
Gua guas is how Cubans call their public buses. This is clearly the preferred transportation method among locals due to their inexpensive ticket (1 CUP, which equals to less than 0,05€). In Havana, there are 17 different routes, covering most areas around the city. The Havana Metrobus Network Map is a bit confusing, but it worth taking a look at!
Survival Tips for using Gua Guas
You need to have CUP to pay for your bus ticket. For understanding the difference between CUP (the national currency used by the locals) and CUC (Cuban Currency used by tourists), have a look at my previous post here.
Usually there is a ticket inspector onboard to whom you will hand over your money. When the bus if full, you might give the money to somebody else to pass it on to the inspector. I never got a ticket back, but handing over the money means you have paid for your ride!
The buses are usually very crowded, especially during peak hours. As you will be standing out as a non-local, try to be prudent with your belongings! Overall, I found Cuba to be a very safe country, but pickpockets thrive in crowded places likewise everywhere else in the world.
Normally at the bus stops there is an unofficial line of people waiting in a totally disordered queue. Always be respectful of this queue and ask who is the last one in line ("el ultimo" in Spanish).
Once you enter the bus, you should make your way to the back. You will exit through the rear door.
From the Havana Metrobus Network Map you can already see that there are two public bus lines getting past Havana Airport (Terminals 1 and 2). Most people will never tell you about them. My Cuban host informed me about this option indicating that this is not a simple solution, yet it is still possible.
If you want to take your chances with the public bus from the airport, just be aware of the following:
Terminal 3 is the main International terminal in Havana airport serving all flights, apart from the ones coming from US.
Terminal 2 serves US flights only.
If you arrive in Terminal 3, you will need to take the Connexion Bus to Terminal 2 (or walk the 1.5 km distance). Some people say the Connexion Bus is like a "ghost" bus (nobody has ever seen it), but the bus does exist and is running every 1 hour. This service is free of charge.
Once you get to Terminal 2, you will need to walk around 200m to Boyeros Street. From there you can get the P12 or P16 buses heading to Havana. Once you step off the bus, you will most probably need to take a colectivo to your final destination!
Terminal 1 serves domestic flights only. Public Viazul buses are connecting Terminal 1 to downtown Havana.
In the official website of Havana Airport you will read that tourists cannot use public bus services. This, however, is only half-truth. Tourists CAN use public buses if they hold CUP (the ticket can only be paid in CUP). Take a look at my previous post here to learn how you can get your hands on CUP.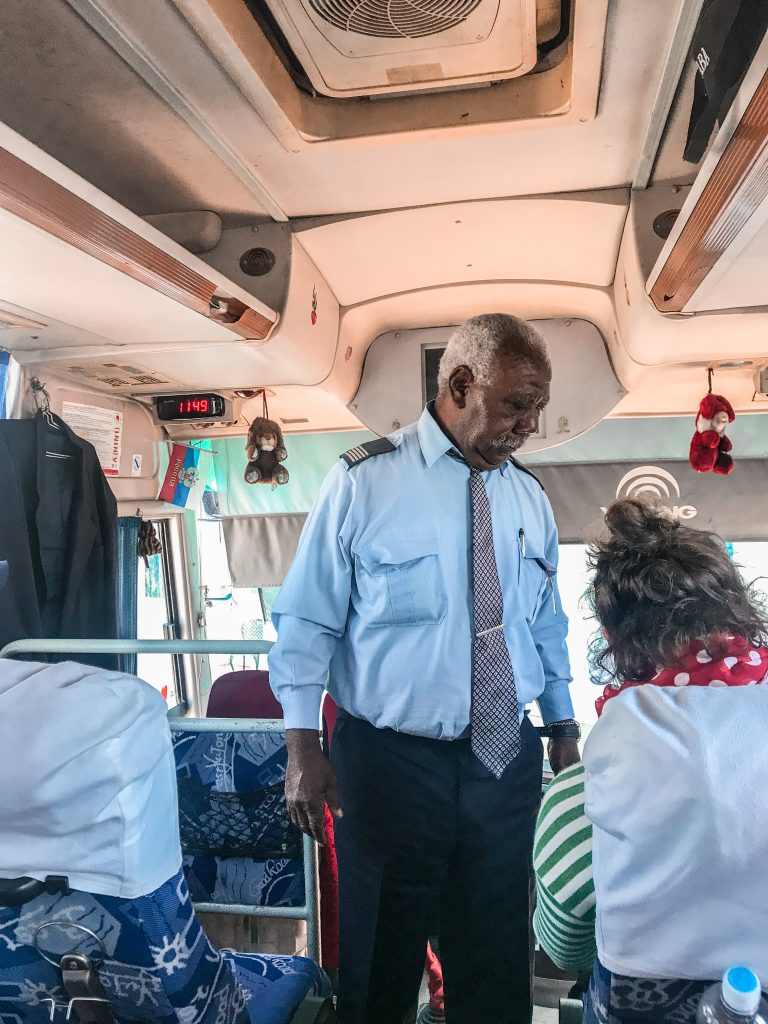 © Photos by Thaleia Ioannou
There are two main companies operating intercity bus routes across Cuba; Viazul and Astro.
Astro is covering the widest network of long-distance routes in Cuba. This is also the preferred bus operator for locals, since their tickets are much cheaper. Tourists are generally advised against Astro due to the lack of comfort and reliability on their operated routes.
Having said that, tourists tend to favor Viazul. Viazul buses are air-conditioned, affordable, reliable and safe. You can check their timetables and easily book your tickets directly through their website.
Here's what you need to know if you have decided to use Viazul while in Cuba:
Book your ticket well ahead of time. Seats fill in quite fast, especially during high season.
Always check what is your departure bus station for two main reasons. First, because there might be more than one Viazul bus station in the city of your departure (likewise in Havana). And secondly, for estimating the time you will need to get there. Note: The Viazul bus station in Havana is outside the city center, and you can only get there by taxi.
Remember to print and bring with you the confirmation of your reservation.
Arrive at the bus station much earlier. Make sure you reserve enough time for exchanging your reservation with the real ticket. When you get to the Viazul station, ask where you can pick up your ticket (this is usually the cashier counter).
It worth mentioning that there are also colectivos traveling on long distances, connecting one town to another. Prices are similar -if not a bit cheaper- to the local buses. In general, price is subject to negotiation so bring out your best bargaining skills to get the best deal! Alternatively, ask your casa particular host to do the arrangements for you.
Colectivos are an excellent option if you are traveling as a group or if you can share the ride with other travellers. If you are traveling alone, you might have to wait until all seats are full before your colectivo departs.
Driving independently can give you the flexibility of exploring Cuba at your own pace. However, you should be aware that car rental is a totally disorganized business in Cuba, something that can cause loads of frustration.
For those still interested to give it a shot, here is a list of tips I have collected from fellow travelers:
All car rental companies in Cuba belong to the government. This means zero competition and therefore no difference in pricing. Your only valid criterion for choosing one company over the other is the car availability.
And speaking about availability, be conscious of the low car rental supply in Cuba. A pre-booking is pretty much imperative, if you don't want to be negatively surprised upon arrival.
Car rental companies facilitate online bookings, either through their own web site or via other international agents. Of course, the latter option incurs additional costs.
The minimum daily cost for a rental car is 60 CUC, topped up by another 10 CUC for the mandatory insurance. Moreover, you will need to pay for a full tank of gas, as well as an additional 200 CUC as a deposit. You will get your deposit money back when you return the car without any damages.
Picking up your car outside the official working hours, incurs extra charges. Also, your pickup will most probably take place at a different location other than the airport.
The cars in Cuba are not well-maintained. Having said that, you should always check for existing damages and ensure that your car comes with all required equipment for a possible flat tyre.
You usually pay for the car rental upon reservation. The payment for the mandatory insurance and the full tank of gas is done in cash at the car rental office. Moreover, you might need to pay the deposit also in cash, unless the company accepts credit card. As a general rule, locals favor those who pay in cash by giving them a better car.
Based on latest info, the gas currently costs at about 1,19 CUC per litre.
Cars do not come with a GPS. Be proactive by downloading some offline maps well in advance.
If you engage in any kind of accident while driving, you will not be allowed to leave the country. Regardless if it was your fault or not, you will be detained in Cuba until the court takes place (for a minimum of 6 months).
If you're involved in an accident where an animal is injured or killed, you face a penalty of 6 months' imprisonment! If you cause injury or death of a human, then the imprisonment goes up to 3-4 years.
The road conditions are not that bad, but the major drawback is the lack of road signage. Apart from the offline maps, try learning some basic Spanish so that you can ask for directions if need be.
Budget permitting, you can also opt to fly from Havana to other Cuban cities! The domestic flights are usually too expensive, ranging between 200-250€ for a return flight, or around 130€ if you travel one-way.
For many years tourists were discouraged from using trains while in Cuba. The facilities were non-existent; no air-conditioning, no sleeper compartments, no food or water onboard, not even toilet paper. And on top of all that, the trains were extremely slow and totally unreliable.
Before the summer of 2019 you could never know the exact departure dates and times, or even where you can get your ticket from. Not to mention that trains got cancelled quite often, without any prior notice. Another frequent phenomenon was the mechanical breakdown of the trains along the way. In this case, passengers would remain on the wagons for hours and hours until the engine was repaired or replaced.
But things have finally changed! In July 2019 Cuba brought into service some new trains, running at a much higher speed and with premium facilities. These new trains offer air-conditioned first-class wagons and what more… a cafeteria! In addition to that, the booking of the tickets has also become more straightforward. Viajero, a local travel agency that belongs to the government, is now responsible for the ticket sales. You can find Viajero offices in all major railway stations.
Good news is that a certain number of tickets is reserved just for tourists. This means that you can still find a seat, even if the train appears sold out for locals.
The initial plan was to have more frequent trains running across the country, but for the moment most routes are served every 4 days.
The source of the above-mentioned information was the always up-to-date Seat 61. I highly recommend visiting this site if you are interested in getting more info about routes, conditions and ticket fares for all available trains in Cuba.
Cuba is probably the only country in the entire world where hitchhiking is legally enforced by the government! It all started back in the 1990s when Cuba suffered a gasoline shortage. At that time, public hitchhiking grew as a popular mode of transportation among Cubans.
To facilitate locals in hitching a ride, the government set-up a network of dedicated pick-up points along the country's main transportation routes. These points (also known as Puntos Amarillos) were supervised by officials dressed up in yellow uniforms. The officials would ask people where they were heading at and for a small fee, they would help them get a ride.
Nowadays, hitchhiking might not serve the exact same purpose but due to the low crime level in Cuba it is still actively used. The Amarillo Points are still there, and so are the officials. If you decide to hitchhike, go to a main junction or highway and stand in the direction you are heading at. If you are lucky enough to find an Amarillo Point, ask for the official to help you. If not, try your luck directly with the passing cars.
Hitchhiking in Cuba is very similar to the ridesharing system we use in our own countries. Meaning, it is appropriate to offer a small contribution to the driver for his gas expenses. If you get your ride with the help of an Amarillo official, he will receive your contribution in the form of a fixed nominal amount. In this case, your money will go to the government and not to the driver himself. An indicative cost for such a ride is 20-50 CUP (1-2 CUC), but if you stand out as a tourist you might be charged a premium.
To give it a try with hitchhiking in Cuba, you will need to have a flexible time-schedule as you might need to wait for long hours. Moreover, some basic Spanish will definitely help you survive the experience!
Note:
At the moment of writing, the exchange rate between CUC/CUP and USD/EUR is approximately:
1 CUC = 1 USD = 0,93€
1 CUP = 0,05 USD = 0,04€